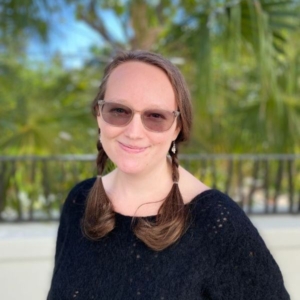 UCLA Mathias Botanical Garden would like to welcome Amanda Beisch, the new Manager of Garden Outreach and Education.
Amanda comes to UCLA from the National Tropical Botanical Garden on Kauai where she managed volunteer recruitment, scheduling, and retention. From there, she transitioned into a communications role at the organization, leading communication efforts across all digital platforms.
One of her greatest achievements was running the organization's first awareness campaign, 'Meet the Plants,' to boost local membership, garden visitors, and enthusiasm for gardening with native plants. Amanda also developed educational tools and content for ntbg.org including the Hawaii Education Series and gardening resources.
I'm excited to dive into California's flora and fauna. I'm a passionate lifelong learner and can't wait to connect people to the natural world through the Garden's unique living collections.
Amanda received her Master's in Museum Education from The George Washington University in 2012. Since then, she's used her passion for environmental and conservation education to inspire stewardship for the natural world through engaging place-paced programs. In addition to tropical plants, Amanda's previous experience includes the National Audubon Society, Fort Worth Zoo, and Disney's Animal Kingdom.
While working at the Garden, Ms. Beisch plans to inspire curiosity, inquiry, and understanding of plants through the development of innovative environmental and cultural programs.
You can reach Amanda most weekdays from 8 a.m. – 4 p.m. at beisch@g.ucla.edu or by phone at 310-825-8260.
Give it up to our Volunteer of The Month, Fidel Negrete! 
Fidel first became a volunteer this past Winter Quarter in 2022. After week's worth of being involved in the Garden Educator Training Program, he soon became an official Garden Educator and Guide.
Being able to share the history of the Botanical Garden and the interesting species we have in our collections is one of my favorite parts about volunteering! 
Along with seeing people's faces light us as they walk through the Garden, he especially enjoys being able to express his passion for plants and botany as a whole. During his time at the Garden, Fidel is expanding his knowledge of endangered plants and the importance of plant conservation. 
Fun fact: Mr. Negrete is a fourth year Environmental Science Major and Geography Minor and has been in the UCLA Marching Band all four years playing the trumpet.
Thank you, Fidel, for the amazing work you bring to the Garden. You sure are one-of-a-kind!