Host your next event in a lush oasis in the Westwood neighborhood of Los Angeles. From intimate weddings to conferences, the UCLA Botanical Garden is a unique and memorable venue for your special occasion. Explore our spaces below, and please note that the largest event we can accommodate is ~125 guests.
• For Venue Reservation Requests: Fill out the form below and we will be happy to assist you with choosing the right fit for your event. You do not need to be affiliated with UCLA to utilize these spaces. You may also contact gardenreservations@lifesci.ucla.edu regarding reservations. When planning your event, please note that per UCLA Policy 809: Single-Use Plastics, you may not use disposable single-use plastic Foodware Accessory Items at events. Instead, you may use Reusables or Locally Compostable alternatives.
• For UCLA course class sessions, you may reserve the Outdoor Amphitheater for free. Start your reservation request here.
• For Filming and Photography Permits: Learn more here and submit a permit request. All photoshoots, including personal, require permission from the Garden. Commercial filming and photography are prohibited in the Garden without a UCLA permit.
• On your event reservation, please input appropriate hours for set-up and cleanup (1 hour before and 1 hour after event). Your party is responsible for set-up, breakdown, and clean-up. It is recommended to bring another person to help with this.
Please note: Reservation requests must made within 2 weeks of the event. Outdoor venue events must end at or before 4pm due to lighting and staffing resources. (Nov 2021)
La Kretz Garden Pavilion (LKGP)
A stunning, bright space with furniture that can be configured for a variety of uses. Comes setup as two classrooms (100, 101) with 3 long tables and seating for 24.  Rooms can be rented individually or together. Additional tables and seats are available and can be setup for panel discussions, theater style for speakers, or any setup you like for parties or meetings (renter is responsible for returning furniture to original positions). Includes a projector and retractable screen as well as a large whiteboard wall. Glass exterior walls can be opened for a true pavilion style or combined with the Courtyard (Herbert Plaza) for a larger space. A divider wall can be contracted to connect Room 100 and Room 101 into a single, open, curved space.
Includes a gender neutral, women's, and men's restroom. This area is ADA accessible.  Room 101 is required if interested in renting the Prep Kitchen. (table/seated capacity: ~30 per classroom, theater style capacity: 48 per classroom, maximum capacity of 100 people when both rooms are combined)
*Update: LKGP room 101 now has a 70-inch Smart TV mounted on the right side wall for your Zoom needs. Included underneath the screen is a pre-installed camera with its very own built-in speakers, allowing guests to hear the other party clearly. All you need is your Zoom login information to get started! (See pictures for more.)
A large circular outdoor area that is encircled by the garden pavilion and adjacent to the garden patio and the garden itself.  The surrounding areas are beautifully landscaped with a variety of native plants and there is a tree that sits in the center of the space.  The majority of the space is gravel with some concrete hardscaping near the pavilion and nearby walkway areas for ADA accessibility. Due to gravel, this space is not available during the rainy season. Client needs to provide all rentals. Electrical outlets are available. Includes a gender neutral, women's, and men's restroom. Receives full sun during the day, and is pleasantly shaded ~2 hours before sunset. This space is only available as an add-on to at least one of the LKGP classrooms. (capacity: 75 guests)
A naturally shaded outdoor space with gorgeous teak furniture. A lush location for a reception with no need for rental furniture. A wonderful addition to a larger reservation to enjoy an outdoor meal. Includes a gender neutral, women's, and men's restroom. Located just outside La Kretz Garden Pavilion and next to Herbert Plaza. ADA Accessible. (table/seated capacity: ~ 30)
Located inside the Botanical Garden along the Stream, the Jewell Terrace is a serene and intimate space for smaller gatherings. Three round teak tables with benches are included. Umbrellas are up in summer months. No electricity is available. This space is typically only available to rent during regular garden hours, though some exceptions may be made. ADA Accessible. (table/seated capacity: ~18-30).
An outdoor amphitheater in the garden with 3 rows of seating. Blankets can be added to the mulched area to create additional ground seating. A whiteboard is stored within a rock structure and is easily setup. A gorgeous space surrounded by plants beneath a Gingko biloba tree. This space is typically only available to rent during regular garden hours, though some exceptions may be made. Courses listed through UCLA's Registered Office may reserve this space for a class time without a rental fee, but a reservation is required. Includes access to a gender neutral, women's, and men's restroom. (seated capacity: 40-50 on wooden benches, 120 if blankets are set out on the ground)
Sustainability Event Resources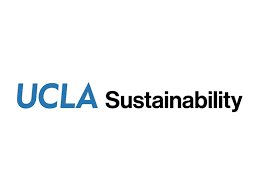 As guests of UCLA, we request that you follow our sustainability policies, including our transition away from single-use plastics and green events guides. Your collaboration goes a long way in helping UCLA reach our sustainability goals. (UCLA Policy 809 )
Please see our Green Events Resources List for approved zero-waste catering services, sustainable serviceware options, and more!
Additional Resources For You
3 large a-frames with liquid chalk markers
3 white foldable tables
1 portable speaker with mic
7 tall metallic chairs (per room)
To see the Garden Map, click here.
To see the Parking Map with parking information, click here.
(Please input what resources you would like to reserve under the comment section of your request.)